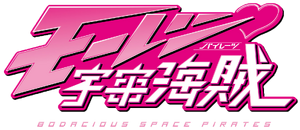 Welcome to the Mouretsu Pirates Wiki!
This wiki is dedicated to everything about the Miniskirt Pirates / Mouretsu Pirates series! We currently have 561 articles on this wiki for you to edit.
About • Help • Administrators • Manual of Style • Layout Guide • News Archives • Polls • Poll Archives • Watercooler • Community Portal • Blogs • Community Messages • To Do List • All Pages • Featured Articles
Beware: There be unmarked spoilers ahead!
Featured Article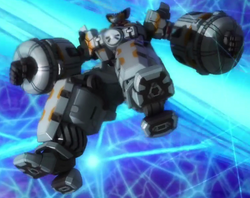 The Advaseele is a subspace submersible, the final submersible built by Professor Mugen, intended to explore beyond the deepest depths of known subspace where no craft could previously go.
The Professor's legacy and his final ship, the Advaseele was sought out by the Yggdrasil Group for their own ends following the professor's disappearance and presumed demise. The professor had left clues to the Advaseele's resting place on the comet Hrbek Oda for his son, Kanata, giving him a choice for his future. Fleeing from his pursuers, Kanata met Marika who had inherited a promise from her father to Professor Mugen to assist his son in choosing his future, with their path ultimately leading them and their enemies to the professor's legacy.
The Advaseele is an advanced submersible, durable enough to withstand subspace explosions and dive to its deepest depths, capable of shifting forms and assisting its pilot via AI. It is able to drive its way through subspace using drill-like devices on its arms and produce shield-like surfaces from its feet to stand on or propel itself. It is also equipped with the Flint system, which was intended to penetrate the X-Point, the deepest known point in subspace.
For more information, read here
Latest Media
Franchise Status
Light Novels: Currently at Volume 12.
Anime: First season concluded. Movie theatrical run concluded.
Manga: First manga concluded at Chapter 6. Movie-based manga concluded at Chapter 10 and Volume 2.
Incoming Media
News
(November 10th 2015): The second volume of the Abyss of Hyperspace manga is released in English by Seven Seas Entertainment.
(October 17th 2015): The author of Miniskirt Pirates, Yuichi Sasamoto, has revealed that two new stories are in the works for the series (Source: sasamotoU1, Twitter (Japanese)).
(August 25th 2015): The first volume of the Abyss of Hyperspace manga is released in English by Seven Seas Entertainment.
(June 24th 2015): The Mouretsu Pirates Blu-Ray Box is released.
(June 19th 2015): With the upcoming release of the Blu-Ray Box, four selected episodes from the anime and Abyss of Hyperspace are going to be streamed live on the Bandai Channel at 8pm, Wednesday 24th June. Director Tatsuo Sato will be a guest for the event, with real-time commentary (Source: Starchild, News (Japanese)).
(May 15th 2015): The Mouretsu Pirates Blu-ray Box is to include several additional items, including a short story by novel author Yūichi Sasamoto, a short manga by novel illustrator Noriyuki Matsumoto, an audio drama by anime director Tatsuo Satō and several additional booklets concerning the series (Source: Starchild, News (Japanese))
(March 20th 2015): A new Blu-Ray Box for the Mouretsu Pirates anime is set to be released in Japan on June 24th (Source: Starchild, News (Japanese)). Linking in with this release is a broadcast on Nico Nico Douga on May 16th-17th (Starchild, News (Japanese)).
(November 12th 2014): Mouretsu Pirates: Abyss of Hyperspace is released on Blu-Ray and DVD.
(October 28th 2014): The Mouretsu Pirates: Abyss of Hyperspace Complete Chart is released (Source: Starchild, News (Japanese)).
Helping Out
At the moment, many articles on the wiki need some work done to them and a little help improving them would be greatly appreciated.
This wiki currently needs help with:

See the To Do List for more information as to what needs doing. See also the Manual of Style and the Watercooler.
For help, see Help and the Community Portal.
Related Sites
Official Sites:
Other Sites:
Movie Countdown
Mouretsu Pirates: Abyss of Hyperspace is now released on Blu-Ray & DVD in Japan. Video Master Edition theatrical screening concluded.
Polls
How would you rate Abyss of Hyperspace, out of 10?
Out of the two anime Bentenmaru bridge designs, which one do you prefer?
Out of the visual styles used in the Miniskirt Pirates/Mouretsu Pirates series, which is your favourite?
Which do you think needs the most attention on this wiki at the moment?
Is the current episode-to-arc structure on the wiki satisfactory?
Which arc status indication do you prefer on the arc summaries in articles?
Poll Results
If you were in the same position as Marika at the start of the series, when she was given the choice to become a space pirate captain while still a high-school student, do you think you would make the same decision she did?
Yes: 6
Maybe: 3
Maybe not: 1
No: 0
Don't know: 0
Total: 10

Do you think that the original Miniskirt Pirates novels should be translated?
Yes: 10
Maybe: 0
Maybe not: 0
No: 0
Don't mind either way: 3
Total: 13